Route 100 Light Rail Line (P&W RR)
This line runs from the 69th Street Terminal of the Market/Frankford Subway/Elevated (MFSE), to the Norristown Transportation Center.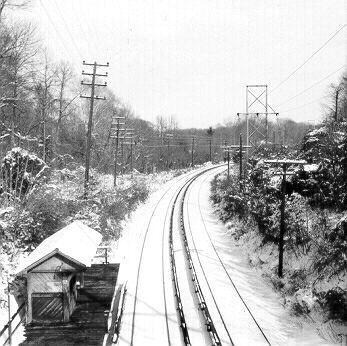 Above, looking north at County Line Station, taken in 1973. Notice the third rail power sources.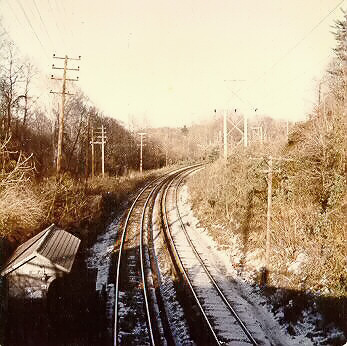 Above, same view as above, in color with less snow.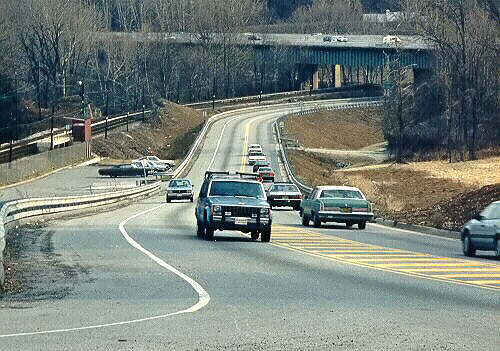 Above, relocated Old Gulph Road at Gulph Mills, taken March 1987. A Route 100 (P&W Railroad) station is at the left edge of the photo. There is a commuter parking lot there. In the distance is the Gulph Mills Viaduct of the I-76 Schuylkill Expressway. The relocation of Old Gulph Road was completed a couple years before I took this photo, and it was a big improvement, since the original road was on an S-curve over a narrow bridge over the railroad, and the original road went under another low-clearance bridge under the same railroad (the P&W RR or Route 100). The new alignment is much straighter and it avoids both railroad crossings.
Photos by Scott Kozel.
When I developed this article back in 1998, I was planning on eventually developing a far more comprehensive article; but other rail transit private websites have since then developed comprehensive articles, which follow.
Norristown High Speed Line - history and photos by the Philadelphia Transportation Page. Also The Trolley Page.
Philadelphia: Norristown High Speed Line by Jon Bell. Philadelphia Transit Links and Jon Bell's (Mostly) Rail Transit Pages.
Philadelphia: SEPTA Norristown (Route 100) Line - history and photos by www.nycsubway.org. Excerpt (blue text):
Route 100, also known as the Norristown High Speed Line (NHSL), or locally still as the "P & W" (from its heritage as the privately owned Philadelphia and Western Railway), is a unique line which has the elements of heavy rail, light rail and commuter rail all wrapped into one. It has the high-level platforms and third-rail contact typical of heavy rail lines, with the closely-spaced stops, on-board fare collection and single-car operation (generally) found on light rail lines, and the general peak direction traffic and suburban setting one would associate with commuter rail.
SEPTA (Southeastern Pennsylvania Transportation Authority) has a webpage and map about Route 100, SEPTA Transit Schedule: Route 100. SEPTA Railroad and Rail Transit Map.
Copyright © 1998-2003 by Scott Kozel. All rights reserved. Reproduction, reuse, or distribution without permission is prohibited.
By Scott M. Kozel, PENNWAYS
(Created 2-2-1998, updated 7-7-2003)