I-95 Delaware Expressway
This road runs through 52 miles of Southeastern Pennsylvania. Most of it runs parallel to and near the Delaware River. Construction started in 1959 in Northeast Philadelphia, and the last section opened was in 1985, from Penrose Avenue to Enterprise Avenue near the Philadelphia International Airport.
I have some pictures taken of the I-95 when it was under construction.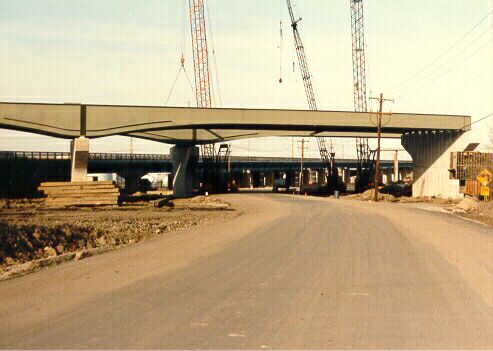 Above, I-95 bridges under construction with Penrose Avenue Bridge in background, in 1984.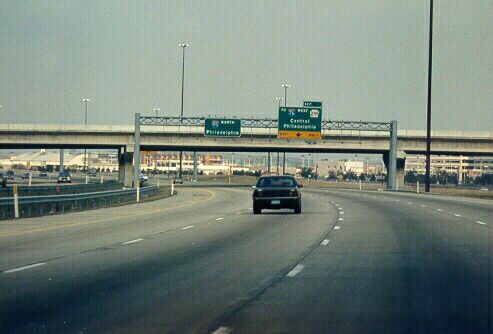 Above, completed I-95, northbound, with Philadelphia International Airport in the distance. Photo taken April 1987.
I-95 Construction in Center City and South Philadelphia, 5 photos.
I-95 Ride Through Center City and South Philadelphia, soon after completion, 6 photos.
I-95 in Northeast Philadelphia, 1 photo.
For extensive history of the I-95 Delaware Expressway, see Steve Anderson's Delaware Expressway (I-95) website article.
History on I-95 in Pennsylvania from Jeff Kitsko.
All PENNWAYS I-95 photos taken by Scott Kozel.
© Copyright June 1998-2000 by Scott Kozel. All rights reserved.
By Scott M. Kozel,
PENNWAYS