I-676 Vine Street Expressway
I-676 runs 7 miles between I-76 near 30th Street Station, through downtown Philadelphia as the Vine Street Expressway, and it crosses the Ben Franklin Bridge over the Delaware River into Camden, ending at I-76 near the Walt Whitman Bridge in New Jersey. The 6-lane Camden section was completed around 1980, and the Vine Street section (with four and six lanes) was completed in 1991. The Ben Franklin Bridge, opened in 1926, carries seven lanes of highway and the PATCO rapid rail transit line.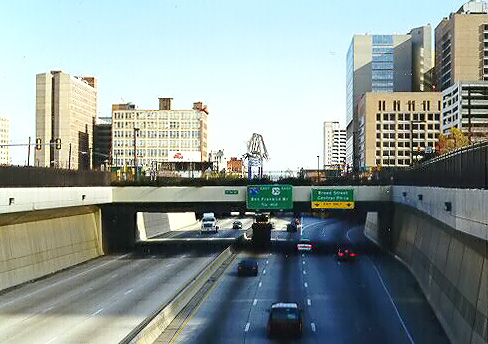 Vine Street Expressway, eastbound, from Logan Circle, looking toward Broad Street exit. This photo taken November 1997 by Steve Anderson of New York City, NY.
When I developed this article back in 1998, I was planning on eventually developing a far more comprehensive article; but other highway private websites have since then developed comprehensive articles, which follow. I have read extensively about I-676 and the Ben Franklin Bridge at various times since the early 1970s, and I can vouch for the accuracy and thoroughness of the historical articles by Steve Anderson, Jeff Kitsko and Kurumi.
Vine Street Expressway (I-676 and US 30) - history of I-676 by Steve Anderson.
Benjamin Franklin Bridge - history of the bridge which carries I-676 and US-30 over the Delaware River between Pennsylvania and New Jersey, by Steve Anderson.
Interstate 676 - history by Jeff Kitsko.
I-676 Pennsylvania; New Jersey, by Kurumi's 3-digit interstate highways.
Pennsylvania @ AARoads.com - Interstate 676 - photos by AARoads.com.
Vine Street Expressway, by University of Pennsylvania Archives.
Philadelphia: PATCO High Speed Line - history and photos by www.nycsubway.org. This rapid rail transit line crosses the Benjamin Franklin Bridge, and it is also known as the Lindenwold High Speed Line.
Copyright © 1998-2003 by Scott Kozel. All rights reserved. Reproduction, reuse, or distribution without permission is prohibited.
By Scott M. Kozel, PENNWAYS
(Created 2-1-1998, updated 8-11-2003)