I-476 Mid-County Expressway

This road is popularly called the Blue Route. It is 21 miles long and runs from I-95 at Chester, Pa. to I-276 at Plymouth Meeting, Pa. For the sake of this article, I am not considering the recent I-476 designation of the Northeast Extension of the Pennsylvania Turnpike. The Northeast Extension was opened in 1957 as a state toll highway.

For history of I-476, see Steve Anderson's

Mid-County Expressway ("Blue Route") I-476 website article.

More good history on

I-476 in Pennsylvania, from Jeff Kitsko.

William Yurasko's

Blue Route/NE Extension I-476 Page.

I have some pictures taken of the Blue Route when it was under construction.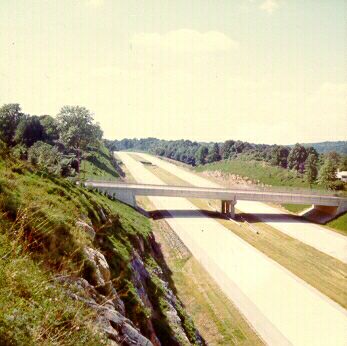 Above, I-476 looking southbound. This 2.5-mile section was completed in mid-1974. The overpass carries Old Gulph Road.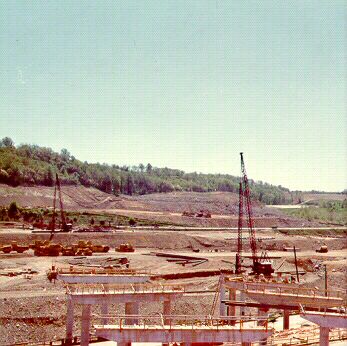 Above, I-476 West Conshohocken interchange under construction in 1974. The bridge piers will carry the mainline over PA-23. I am looking to the south, and the fine line running right-to-left, behind the farther crane, is the I-76 Schuylkill Expressway. The white roadway in the far distance is the end of the just-completed section of I-476 shown in the top photo.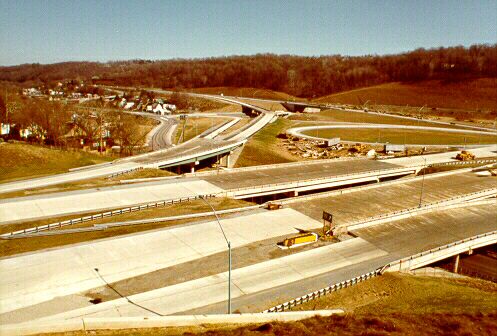 Above, I am standing on the top of the north hill overlooking the interchange. The two center roadways are the 3-lane mainline I-476 roadways. The outer roadways are ramps to/from I-76. The town off to the left is West Conshohocken.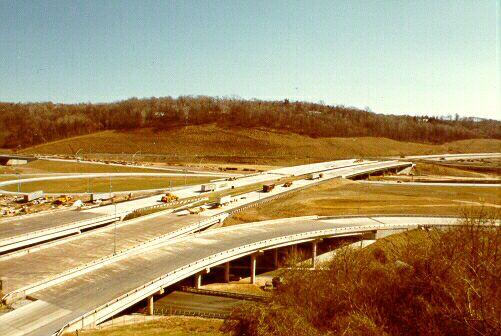 Above, I am standing in the same spot as the previous picture, but I have panned to the right. I am looking south; the long bridges in the distance pass over I-76. These two photos were taken in 1976.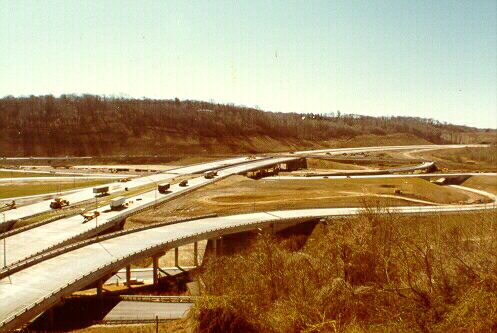 Above, wide-angle shot of West Conshohocken interchange, looking south. Taken same day as previous two photos.

Completed West Conshohocken Interchange,

2 Photos. (Click)

By Scott M. Kozel,

PENNWAYS